Welcome to MAST
This website provides you information about the Master in Aerospace Science and Technology of the
UPC -Barcelona Tech
. This Master's Degree gives you advanced training in the sciences and technology that are currently most widely used in the fields of aeronautics and space. The Master program includes the study of theoretical and practical groundwork, techniques, methods and processes of current use in aerospace research.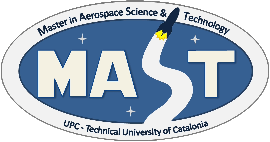 Structure
The whole program consists of a total of 90 ECTS credits distributed in three semesters of 30 credits each. Students may enrol the program in September (mostly recommended) or February. Fall semester is devoted to mandatory courses and spring semester to elective courses. Once students have completed 60 credits in courses, the Master Thesis (30 credits) is performed at a University department or at an aerospace company.
Career prospects
Graduates from this Master's Degree will be experts qualified to work in:
 - University departments, institutes or research centres in order to produce a doctoral thesis.
 - R&D&I departments in industry in the aerospace field or similar.
Schedule
Lectures are scheduled Monday to Friday from 16.00 with special sessions in other time frames, some of them in the morning.
Site
Lectures take place mainly at the UPC Campus in Castelldefels (Castelldefels School of Telecommunication and Aerospace Engineering).
Organization
This Master is organized by the UPC Castelldefels School of Telecommunication and Aerospace Engineering (EETAC) with the collaboration of the Centre National d'Études Spatiales (CNES), the European Space Agency (ESA), and the Universitat Autònoma de Barcelona (UAB).
Official degree
This master's degree has been officially verified by the Ministry of Education of Spain. You will find more information here.